S
omehow in my life I have surrounded myself with folks that love to get the crap scared out of them. They go to scary movies and laugh "because there hasn't been a scary movie created since
The Ring."
Mr. Haire has to go on Scary Movie dates with the neighbors and I stay at home and watch
Notting Hill
or
The Wedding Date.
To them, Halloween is all about scary movies, haunted houses, and saying "Bloody Mary" in front of the mirror with the lights off. Well that last bit might be an exaggeration.
But to me, Halloween is all about wearing a colorful wig while passing candy out to the Trick-or-Treaters, carving pumpkins and wearing my scary ghost socks and pajama pants while watching the
Today Show
Halloween specials. I am such a skirrdy cat that I am afraid to look at some of my favorite blogs. For example, CromeYellow has posted their
11 Must Watch Halloween Movies
List. So if that is your thing, take their advice, they are experts. If you are looking for something a little more mild, my Halloween movies include:
The Nightmare Before Christmas
Hocus Pocus
The Frighteners
The Craft
The Others
Now, I know those may not be considered scary, but they are the ones I
know
won't give me nightmares. At least they haven't in the past. How Mr. Haire ending up with such a weenie I don't know, but I just don't do scary!
Here are some pictures from our Pumpkin Carving session with our neighbors and dear friends "The Kims."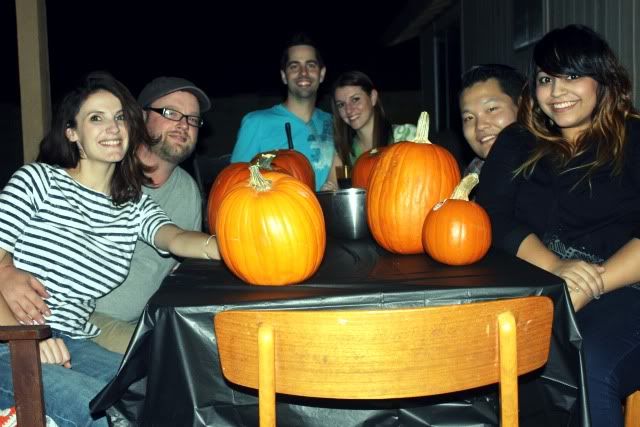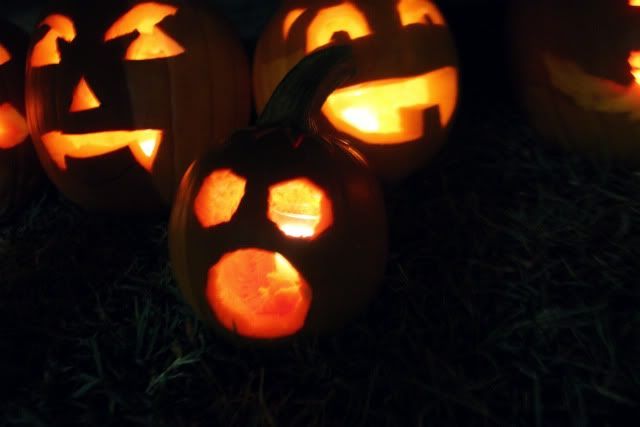 Mine is the happy one in the back.
(pictures from
Mrs. B. Kim
)
I hope everyone has a happy and safe Halloween, and I really hope you don't find your Happy Pumpkins smashed in the road Tuesday Morning!